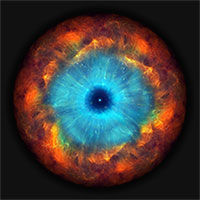 Vidéos d'astronomie ~ Planète Astronomie
Toutes les vidéos d'astronomie, documentaires et conférences sur l'Univers
246 videos
In Saturn's Rings 5.6k Saturn Cassini Photographic Animation - Expanded, Improved
466 vues
Ajoutée Jul 29, 2014
Brand New footage here: http://vimeo.com/34001144

In March 2011, the first footage (http://vimeo.com/11386048) from my non-profit IMAX film In Saturn's Rings went viral, resulting in 3.8 million hits and 1.3 million plays & media coverage in over 250 countries.

Here is an improved, extended version of that footage with unlit side of rings, better color and other small tweaks added.



I'm creating the film on home-built computers running Adobe Photoshop & After Effects. Let me know if you'd like to help.



Created from over 30,000 real photographs taken by the Cassini spacecraft.


Master is 5.6k resolution (5600 x 4200 pixels) with all work done in 32-bit floating point color space to preserve photographs from artifacts.

No 3D models, CGI or texture maps used!
Not-for-profit animated IMAX film in production by a single filmmaker. Visit the site to make a tax-deductible contribution to support the film.



Much thanks to everyone who has supported and contributed to this. This is the beginning, just a taste of incredible things to come.



This is fly-through of this photograph - photojournal.jpl.nasa.gov/catalog/PIA11141 - only a little brightness and contrast has been made to balance the moons with saturn's body.The saturation is off due to lack of Flash Player ICM support.



This is still a work-in-progress and it's an art film, not a science film, but as new image data comes down I will tweak this shot for improved accuracy.